The 2018 Golden Globes gave us a lot to look at, from the wardrobes, the hairstyles, and even the strategically-incorporated colors. But one component many people likely missed was the vast amount of hair accessories being used by celebrities. Some accessories were obviously visible, but others were so subtle that they were almost hidden. Many celebrities chose to pair their hair extensions with sparkly silver hair clips. Others went simple by incorporating trendy black ribbons. There were plenty of hair accessory trends at the Golden Globes, and here are the ones you may have missed.
The Black Ribbon Trend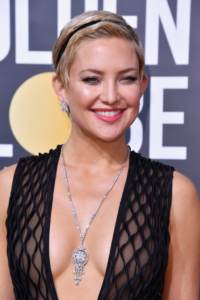 If you were paying attention, you likely noticed black ribbons were the most popular hair accessory on the red carpet. Celebrities that sported a black ribbon include Kaley Cuoco, Jessica Biel, Nastia Liukin, Kate Hudson and more. Each celebrity wore their ribbon differently, but their quality hair care routine was evident. Kate Hudson used a thin black ribbon that could barely be seen in her tousled pixie cut. Meanwhile, Nastia Liukin's ribbon was thicker and clearly stood out against her blond hair.Photo Credit: Getty / George Pimentel
Sparkly Silver Hair Clips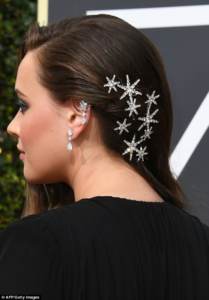 Katherine Langford turned many heads on the red carpet with her sparkly silver hair clips. The key to pulling off this hairstyle is having smooth and sleek hair, which she likely achieved by using sulfate free shampoo and conditioner and possibly other products. The smooth appearance of her hair made the silver clips pop out against her dark hair color. While her overall hairstyle was envied by many, the average person can easily pull it off by using the right products and incorporating hair extensions for added length. Photo Credit: AFP/Getty Images
Silver Thread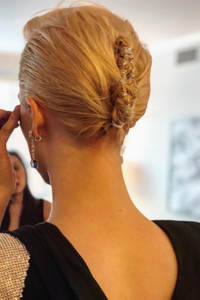 Saoirse Ronan used one of the most subtle hair accessories at the Golden Globes, but it was also one of the most unique. A simple fishtail braid was made glamorous when her hairstylist used a silver thread to weave in and out of the braid. The result was a slight silver touch that complemented her sparkly gown to perfection. This just shows a simple accessory can make a huge difference in the transformation of a simple hairstyle to a glamorous one. Photo Credit: Adir Abergel
RemySoft always pays attention to the latest trends, hairstyles and accessories used by celebrities, especially at events like the Golden Globes. What a lot of people don't realize is the key to pulling off a celebrity's hairstyle starts with establishing a quality hair care regimen to keep your hair in the best condition possible. At that point, you can accessorize as much or as little as you'd like. Feel free to contact us at any time if you saw a hairstyle you liked at the Golden Globes and need advice on how to pull it off yourself.