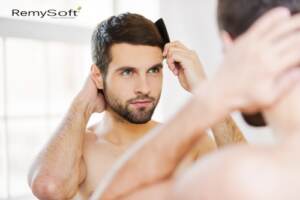 When your hair comes out of a long winter, it probably doesn't look how you want it to for the spring season. Even though spring is already here, there's still time to get your hair spring-ready! Using a great sulfate free shampoo is a great place to start, but there are other options you should consider as well. The winter months take a toll on our bodies, and definitely our hair, so use these tips to get your hair back in shape.
Consider Your Diet for Healthy Hair
Eating foods that are rich in proteins, vitamins and trace elements can actually work wonders for your hair. Foods like strawberries, almonds and dairy products can all boost hair growth and appearance.
Also, you can use certain foods directly on your hair to maximize its appearance. Things like honey and coconut oil spread out on your hair can repair some of the damage brought on by the winter weather and prevent further damage. Consider adding these to your quality hair care routine!
Reduce The Frequency of Washing
The winter months bring dry atmospheres. Dry atmospheres can take a toll on your hair. While you're prepping your hair for the spring, consider reducing the amount of times you wash your hair in a week. Skipping a washing will help the hair replenish the natural oils it needs to stay healthy. Of course, when you do wash your hair, be sure to grab a great sulfate free shampoo to help your hair even more.
Take a Break From Styling Products for a Few Weeks
When you're getting your hair in shape for the spring, take a little break from using your hair products for Remy hair. Don't fret, however; this hiatus only needs to last for a couple weeks. Those couple of weeks will be worth it when you have thick and shiny hair that can be styled however you want for the remainder of the spring and summer!
At Remysoft, we want to help you with your quality hair care routine as you transition from the winter months to the warmer spring and summer months. For more tips on how to prepare your hair now and going forward, feel free to contact us at any time.