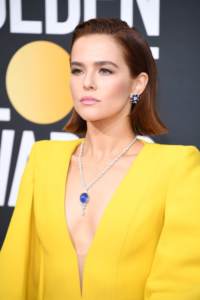 The Golden Globes kicked off the awards season for 2020 with a lot of flair and amazing hairstyles. In addition to enjoying the pageantry of the awards themselves, we can't help but notice the different hairstyles celebrities choose to honor the event. This year we noticed a combination of short hairstyles, tricks with hair extensions, creative use of accessories and much more. Here are some of the surprising hairstyles that stood out to us at the 2020 Golden Globes.
Zoey Deutch's Sleek Cut
Zoey's deep side part and clean, sculpted finish was one of the sleekest hairstyles we noticed on the red carpet. There's nothing particularly fancy about the hairstyle that requires a detailed quality hair care routine, but the key to her look was ensuring every strand of hair was in place. And if you looked closely enough, you may have noticed a slight flip upward at the bottom that added a little something extra to the overall look. Image source: Getty / Daniele Venturelli
Glitter and Sparkle From Lucy Boynton
Lucy rocked one of the boldest hairstyles of the night in our opinion. Her metallic outfit matched her silver eyes, which both went perfectly with her platinum hair and glitter to finish the look. The short haircut with a center part looked even better with a touch of glitter on one side. Everything about Lucy Boynton was dazzling at the Golden Globes. Image source: Getty Images
Jennifer Aniston's Long and Loose Locks
There's not much to say about Jennifer Aniston's hair because it looks gorgeous every time she walks the red carpet. Her effortless quality hair care regimen leads to effortless-looking hairstyles that are the envy of many. The caramel-toned strands and subtle waves offer a laid-back look that's universal for any occasion. Image source: Steve Granitz/WireImage
Jennifer Lopez's Multiple Braids
Jennifer Lopez may have rocked the hairstyle that people had to stop and truly admire the most. At first glance, it looks like a simple top knot or bun. But when you take a closer look, you will notice the bun consists of several rows of braids all wrapped together. You're not alone if her hairstyle inspired you to do the same, so be sure to protect your hair with the best sulfate free shampoo and quality hair care products as you experiment. Image source: Getty / George Pimentel
RemySoft loves getting inspiration from celebrities who walk the red carpet at ceremonies like the Golden Globes. Many people are surprised that they can achieve very similar looks with their hair by talking to their hairstylist and incorporating the right quality hair care products. If there was a particular hairstyle that stood out to you at the Golden Globes and you want to try to recreate it for yourself, contact us for some tips and advice to turn your vision into a reality.