The Emmy Awards never disappoints when it comes to seeing unique hairstyles, and the 2018 edition was no different. Every time a different celebrity walked down the red carpet, you couldn't help but notice the tight curls, the beach waves, the creative textures, the accessories and more. Some celebrities chose to go with hair extensions to create length and volume, but others were rightfully satisfied with going with a shorter look. It was difficult to narrow them down, but here are five of the most impressive hairstyles we saw at the Emmys this year.
Mandy Moore's Beachy Texture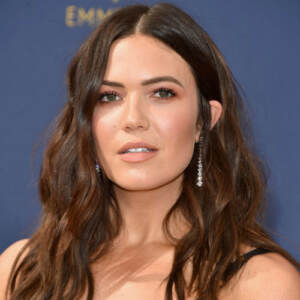 You may have heard about air-drying your hair being an important step in your quality hair care routine. That's evidenced by Mandy Moore's beautiful textured hairstyle, which began with using a sulfate free shampoo. Once completely dried, she used a texturizing product before curling it. The secret to her flawless waves involved using a large curling iron to crimp, while using a smaller curling iron to create perfect beach waves.    Photo: Getty Images
Regina King's Unique Texture Mix
Regina King may have won an Emmy award, but we were most impressed with her gorgeous, creative and unique hairstyle. She incorporated a mix of twists, crimps and curls and included both a chignon and a ponytail. Regina definitely won the night by making a bold statement with her hair and making a creative mix look flawless.   Photo: Getty Images
Evan Rachel Wood's Spring Look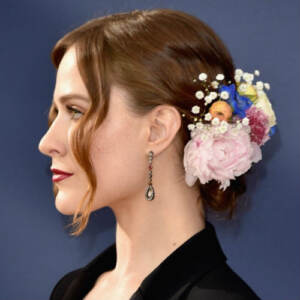 Evan Rachel Wood proved you can still pull off a spring look in the late summer/early autumn months. All it took was pulling her hair back in a bun, letting some hair hang loose in the front and clipping in a fresh arrangement of flowers to give this year's Emmys a spring vibe. This is a hairstyle almost anyone can pull off with the right quality hair care routine, and maybe adding in some hair extensions if needed.      Photo: Getty Images
Ryan Michelle Bathe's Faux-Hawk
Ryan Michelle Bathe had her hair braided starting at the neck and positioned on the top of her head all the way to her forehead. You almost had to have a double-take when you first saw her, as the faux-hawk style was definitely one of the most creative hairstyles of the night. Not many people could pull this hairstyle off, but Ryan Michelle Bathe did so to perfection.  Photo: Getty Images
Kristen Bell's Classic Bun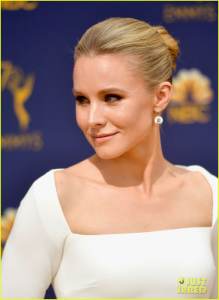 There's never anything wrong with spending a little extra time on your hair and just putting it back in a classic bun. That's exactly what Kristen Bell went with, and she didn't disappoint. The key to making a flawless bun like this is ensuring every strand of hair is in the proper position, and her quality hair care stylist did exactly that.  Photo: Just Jared
RemySoft gets a lot of inspiration for hairstyles from events like the Emmy Awards. As a result, we've collected numerous notable hairstyles and help people pull them off every day. The great thing about most of the celebrity hairstyles you see at the Emmys is the average person can recreate the look with the right quality hair care routine and using the best products for their hair. To learn more about both, don't hesitate to contact us and we will help you achieve the hairstyle that stood out to you the most at the Emmys.