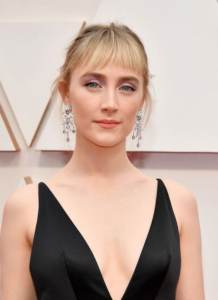 We can only imagine the nerves and anxious feelings the celebrities have as they await the possibility of their name being called for an Oscar Award. But even before they walk the red carpet, it's the hairstylists, makeup artists and other professionals who have to deal with nerves of making sure their celebrity looks amazing. In our views, the collective efforts did not disappoint with the celebrities we saw and the quality hair care products and techniques were on full display. Here are some of the most stunning looks that caught our attention at the Oscars.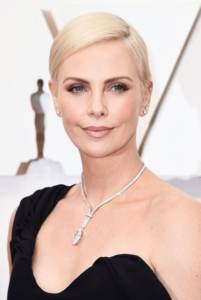 Saoirse Ronan's Wispy, Choppy Bangs
Bangs are often hit-or-miss when it comes to hairstyles, but Saoirse Ronan knocked them out of the park at the Oscars. Her wispy front bangs had a bit of choppiness to them that worked perfectly with her outfit and jewelry combination. The quality hair care technique of her stylist was evident as every hair strand was perfectly positioned to frame her face. Photo: Amy Sussman/Getty Images
Platinum Pixie Cut On Charlize Theron
Charlize Theron never fails to impress with her hairstyles. There's nothing particularly fancy about her platinum pixie cut, but the side-swept deep part to go with it adds a touch of uniqueness. What many viewers of the Oscars may not have noticed are the shiny hair extensions on either side of her head and the black band that brought the look together in the back. The subtle creativeness is something Charlize Theron fans have come to expect over the years, and she delivered again at this event. Photo: Jordan Strauss/Invision/AP/Shutterstock
Florence Pugh's Twisted Top Knot
It's hard to say what aspect of Florence Pugh's hairstyle was the most eye-catching: the twisted top knot or her dark roots. The entire hairstyle all worked together to make us take another look to truly admire the work her hairstylist did. Her hair is proof that patience pays off when you allow your hair to grow out and showcase those roots in different ways. Photo: Robyn Beck/AFP via Getty Images
Natalie Portman's Textured Bob Cut
We are always going to see a few bob styles at the Oscar Awards, and Natalie Portman stole the show with hers this year. The blunt, textured hairstyle is one that works well at a glamorous event like this or even if you're just an average person searching for a new look. The perfect middle part and face-framing attributes of this hairstyle took a basic look to the next level. The shininess of her locks also looks like the result of some great quality hair care products, including leave-in conditioner. Photo: Amy Sussman/Getty Images
RemySoft is always amazed at the various hairstyles we are honored to see at shows like the Oscars. While most of the celebrity hairstyles are the result of weeks of planning and hours of execution, the average person at home can pull off some version of their favorite hairstyle with a little planning of their own. See how we can help you transform your hairstyle by contacting us today.