For most people, there are few occasions more beautiful than their wedding day. We know just how important and special your wedding day is to you. That's why we want to help you find the best possible hairstyle so you can be the most stunning! In this article, we'd like to give you a few suggestions based on the most beautiful bridal hairstyles we've discovered this year.
Braids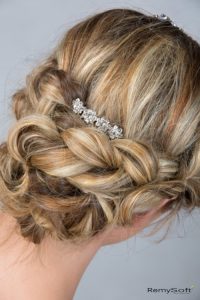 Braids are always an elegant choice for any occasion. Best of all, they work with every possible hair texture and can be combined with loose hair for a more playful look, depending upon your bridal theme. The particular style we have in mind is, in fact, a mixture of loose hair and braids. Before having your hair styled in this way, you'll naturally want it to be freshly washed with a healthy dose of hydrating shampoo. Afterward, you can blow dry it and then begin the styling process. Ask your stylist to scatter braids around your head in an array of braiding styles. These braids should not be too tight because winding them in such a way makes the look neater than the fanciful, bohemian style we're going for. You can then bundle up your braids, either with the rest of your hair to create a colorful updo or just the braids for a romantic half updo.
Romantic Chignon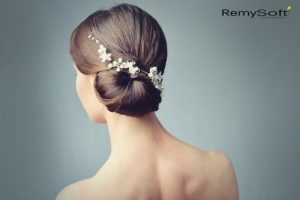 The chignon has long reigned as a signature hairstyle for women around the world. However, this version of the chignon is a little different from the usual fare. Again, you want to start with freshly washed and dried hair by curling random tendrils. You can then part it to one side and tie your hair back into pigtails, which will then be bundled into knot-like buns. Pin them together into a spiral shape and you have a wonderful, fresh and adorable hairstyle for your wedding! If your hair isn't quite long enough for this style, you can always add in some shiny hair extensions.
Natural, Floral Accessories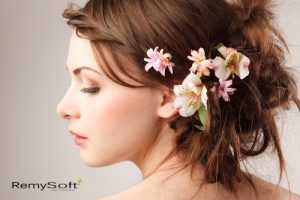 This hairstyle is sure to make you look lovely, as well as match with your bridal bouquet! To start this hairstyle off, you should first wind it into big, soft curls with your tool of choice. You don't want the curls to be too tight because they're only there to help shape the body of your hair. Brush them out once you finish the curling process, then add elastic bands to your loose hair in whatever manner you wish. The last step is to thread your flowers into your hair by the stems, finishing off this ethereal look.
At RemySoft, we are totally devoted to helping everyone look gorgeous, no matter the occasion. This is why we provide products and tips to help you maintain quality hair care. To learn more about how you can look and feel your best with your remy hair, contact us!