Do you have a certain hairstyle you can always rely on and use at any given time? Regardless of your answer, this summer could be the summer of the bun hairstyle for you. It's one of the most versatile hairstyles and can be worn many different ways. And if your hair isn't quite long enough to pull it off, hair extensions can be a great investment. If you're looking for a go-to hairstyle for any occasion this summer, check out these ultimate summer bun hairstyles.
Voluminous Bun
Adding volume to your hair is almost always a good thing, no matter what hairstyle you choose. By using a quality hydrating shampoo and other hair products for Remy hair, you can make your hair look flawless just by adding volume. This includes the bun hairstyle. The easiest way to make a voluminous bun is to incorporate hair extensions. Many people believe extensions are only designed to add length, but are pleasantly surprised with the amount of volume added as well.
Half-Up Messy Bun
If you want to go with more of a messy look, then consider the half-up bun. You have to have longer hair to pull off this hairstyle, so grab your hair extensions before you get started. This hairstyle is accomplished by simply pulling up half of your hair in a bun and letting the other half go. It's definitely not a hairstyle you want to wear to formal events, but it's the perfect summertime outdoor hairstyle option.
Bun With Bangs
Ladies with bangs look great when they pull their hair into a bun. Pulling off this style is as simple as fastening the hair into a bun and letting the bangs fall naturally. If you don't have bangs, but want to try this hairstyle, you can get creative with your hair to make it have the appearance of longer bangs. You may need to ask your hairstylist how to accomplish this feat.
Bun With Reverse Braids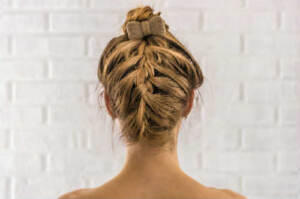 For more of a challenging hairstyle, try the bun with a reverse French braid. To accomplish this, braid your hair starting from the neck and go all the way to the crown of your head. Then use the remaining hair to wrap into a bun and secure it. With the right hair products for Remy hair, you can pull off this hairstyle. It may take a little practice, but your patience and determination will be rewarded with an amazing hairstyle.
RemySoft can help you pull off the most stylish bun hairstyle this summer. We have all the hair products for Remy hair you would ever need for your particular hair type, and we have the best tips and advice to give. To learn more about our products or for more information about these great summer hairstyles, contact us today.